Unique to MyCVBuilder! Our online CV and resume builder allows you to create your CV or resume in almost any language. All European languages, and any written language based upon the Roman typescript, are supported. MyCVBuilder gives you enormous flexibility, both in content and layout.

If you are French, German, Spanish, Italian, Portuguese or any from other European country, you can create your CV or resume in your native language.

Build Your CV Free!

Why Join?

Information
Create in Many Languages!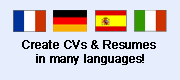 Receive Now! Excellent Guide