Can't Figure Out Why Your CV Gets Trashed Time and Time Again?



Read our testimonials...
---

Simple but Amazingly Powerful CV Writing Techniques
to Save You From the Employer's Trash Bin...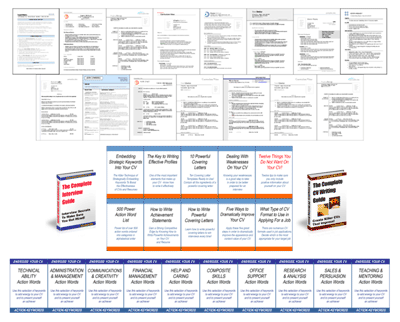 Our package has been designed to give the maximum value for an extremely competitive price. The information, guidance, tips and techniques that you will receive represent 15 years of CV writing and careers consultancy experience. The total value of this combined expertise easily reaches thousands of pounds of consultancy and services given to a large number of job hunters and people making career shifts. Knowing how to market yourself by creating highly targeted CVs is a very important life skill that you cannot ignore - you can learn it all with this package.

We have had excellent success with our career package to date. With almost a 1000 copies sold and testimonials pouring in, it gives us great encouragement to continue to add even more value to our product. Here are some of the testimonials.



"Hi, I thought your package was very American in its approach, I didn't think the rural Irish employment market was ready for such an 'take charge' attitude.

BUT I was proved wrong - Bigtime!!! - I applied for three jobs from the local weekly newspaper. (The only three there!!) Not only was I offered all three jobs - I was also offered six other jobs, by different companies!!!

My application had been forwarded onto an employment agency for evaluation and they thought I would fit the bill for many of their jobs. Given that I have been unemployed for over 18mths - I am delighted to be able to let you know your part in getting me back on my feet and back into gainful employment. Thanks again, ". 17th December 2005 (Ireland).

Shirley Meehan (Ireland)
17th December 2005, 12:15pm
Hi again,

I started work on the 13th September as a Financial Controller of a Large Wholesaler Business in Donegal.

Doing quite well - even if I do say so myself!!

Thanks again

Shirley (Ireland)
24th December 2005, 08:05am
Dear Dr. Amjad Rafiq

...I actually bought the CV builder to help a friend of mine who had a a very patchy education and career history. We used your package to produce a new cv for him and within a month, i think ,he managed to secure a job.

I am a teacher myself and for many years have guided students on producing CV's but this was a totally different situation so found your package very helpful, I even used it to update my own CV.

Thank you

Nausheen
1st January 2006
Thanks for letting me know. Thanks also to the whole team there, as I have now found a great job, due in no small way to the aid of the CV templates I purchased from you in November.

Warmest regards,
Alexander Miller
14 February 2005 17:38
Subject: Re: Interview Guide
Hi, Got the job today - first interview. CV went down really well - only one page long - perfect..

Regards,
Leanne (Australia)
7th April 2005 13:01
Hello, I used one of your templates recently and it really impressed one of the recruiters I submitted my CV to. The templates are designed very well. I wasn't aware of many of the design and eye-movement issues behind writing a CV, and it seems that your templates have managed to bring together a perfect match between appearance, content value and readability. The variation in the CV templates allowed me to mix and match styles and titles to create a strong CV. I'd like to say thanks for a quality product!

Shuwaz Dar
12th December 2004
My CV now looks more impressive than it ever has been.

Lata Chandy
5th March 2005
From: "Shuwaz Dar"
To: "cv.desk"
Subject: Re: Thanks for a quality product!
Update: Hey! I got the job! Only three weeks after I used the CV templates and the knowledge from MyCVBuilder.Com to create a highly targeted CV for my job area, I won the job. Not only that, I have been offered a higher paid job within the same organisation after three months of trial employment for the first job. I have been employed by IBM. One thing that I feel it is important to mention again is what the recruiter said to me about my CV, "...it stood out amongst all the others". I'd like to thank you for making an invaluable tool like MyCVBuilder.Com, it is extremely powerful. I will be using the site again in the future.

Shuwaz Dar
7th January 2005
Hello! Yesterday I did the first interview of my life. Thanks to "MyCVBuilder Desk". Regards.

N. Bombiti
19th November 2004
Thanks... I have prepared a great CV that caught the attention of my present employer

Agnieszka Wrzesien, Poland
4th March 2005
It's an excellent step-by-step guide for creating concisely targeted and professional CV's.

John Deneen, USA
4th March 2005
Dear Sir/Madam, Thank your very much for the valuable tips provided through My CV Builder Desk. I learned lot from mycvbuilder desk and successfully obtained a fixed term contract with one of the [renowned] development organizations here in Nepal. More after further development.
Thank you very much.

Bishow Raj Bhatt.
21st November 2004
I am now in line for a top rate position with an international company. It worked for me. I had several calls to interviews after I followed the tutorial. Now I'm in line for an excellent position. Thanks

Nik Garnett, UK
4th March 2005
...helped me complete a successful cv leading to a promotion into upper management of education. Thanks...

William Douglas, UK
6th March 2005
Thanks for your message and the information you put into the kit I purchased. This was very helpful - success was found at the first job applied for using the CV created through the CVBuilder package.

Peter Dybing, Australia
17th Nov 2005
You will be pleased to know that the CV package that I purchased from you has worked wonders. I have recently changed jobs using one of your templates. My new employers were very impressed with the professional layout of my CV. I think I can safely say that it was your template that did the lions share of the work in my successful application.

Many thanks

Ben Rawson
17th Nov 2005
I must say it was an excellent package and I built up my own C.V from one of the templates provided. I had some good feed back from it at a couple of interviews. Since then I have been successful in gaining new employment.

Thanks again.

Andie Dobbie
17th Nov 2005
I have used the information from the package I purchased recently and got a very positive feedback from either recruiting agencies or direct companies I applied for jobs.

Thank you very much for your help and I shall contact you in near future if I need your further assistance.

Best regards

Katarina Lucas
17th Nov 2005
I did purchase a CV template from MyCVBuilder.Com, and I am pleased to say that I have since found a job. I would like to thank you for all the helpful tips, hints, information, etc, that came as part of the CVbuilder package. They helped with the interview process as well as the CV writing, which proved to be invaluable during my job-hunting phase.

I wish you lots of success with your business, and I hope you will continue to have many more satisfied customers like myself.

Kind regards

Elizabeth Chukwu
17th Nov 2005
Hi Amjad,

When I purchased your CV builder pack I was in the process securing a new contract. My CV at the time was 10 years old and in much need of an overhaul. I found the content extremely useful and built a CV around one of your templates. The guidance notes are invaluable - they really did help and certainly improved the quality and style of the finished document. The week after I had produced the CV I was called to interview and back in employment!

So the update is.... all is going well and I know where to look when I need to update my CV!

Thanks

Andrew Stamp
17th Nov 2005

Very useful, it tackled the very basics of cv writing... I have a much better CV.

(Kenneth Kangee, Accountant)

It became clear to me how CV's should be designed and why it's important to have a perfect CV. At least I managed to write my CV by myself and I am waiting for an interview on the 15 March 2005.

(Baitshupi Ditamara, Security Officer)

Very useful! It guided me to properly present the significant points and the skills to emphasize. It's a great book.

(Genecarh Soroño, Technician)

Have been able to format an effective, attention-grabbing CV which looks very professional and organized.

(Lata Chandy, Sales Administrator, UAE)

Very useful - full of tips and tricks.

(William Douglas, Teacher, UK)

It was extremely beneficial, and gave an understanding that a CV should'nt just be a chronological list of jobs and academic or professional achievements. I can easily say that it is a very logical and honest presentation.

(Kashif Atta, Finance & Accounts, Canada)

Very good. It has been very beneficial to learn from this E-Book and I reccommended to others.

(Ali Hassan, Printer Operator, UK)

It is practical, doable, and informative.

(Dr. Eduado Juangco, Phillipines)

It was very helpful to me when I was preparing for an interview for a managerial position in my organisation. From it I was guided to adequately prepare for areas other than my area of specialisation and was also able to evaluate my skill in line with the job requirements. It really boosted my confidence in the interview.

(Ndomupeyi Chikonye, Engineer)